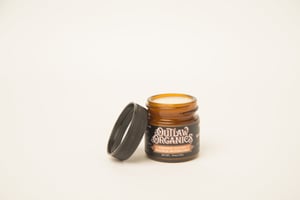 $

18.64
Please order this here-- https://www.outlaworganics.co/
Outlaw Organics Tattoo Balm was created using the finest organic ingredients. We start with a proprietary blend of botanicals infused in our special blend of oils (coconut oil, sunflower oil, and calendula oil to name a few) used while healing and to moisturize your tattoo. It is then carefully mixed in a base of fruit and nut butters (Shea butter, mango butter and cocoa butter), and skin enhancing essential oils that were masterfully crafted to achieve the most comfortable experience during and after your tattoo session. Vegan and all natural! Petroleum free and Paraben free.
A glass container is used as to not pollute the product with any impurities or toxins.
The properties of our formula will not only redefine the clients experience while getting tattooed but also the healing process.
Our balm is meant to replace any and all petroleum based products during the tattoo process and while healing. It is a very soothing experience.
How to use- apply a small amount, allow our balm to melt and absorb into the skin. Due to our balms high ability to moisturize, please do not apply too often. If your skin seems saturated then wait a few hours. Be sure to follow your artists directions.
Photography- After you have finished the tattoo, apply a small amount of balm, cover and allow to sit for 10 minutes as redness is reduced you will be able to get nice photos with less irritation.